Rev Rob Kieselowsky, a graduate of Concordia Theological Seminary, Fort Wayne, IN, was installed as pastor of St. John Evangelical Lutheran Church in 2012.  Before accepting a Divine call to St. John, he served Immanuel Lutheran Church and School (Alexandria, VA) as Assistant Pastor and Headmaster.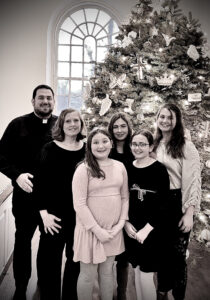 Prior to seminary, he taught high school history for several years at Trinity Christian School in Fairfax, VA.  In addition to his Masters of Divinity from CTS, he holds a bachelor's degree in Biblical Studies from the Philadelphia College of Bible (now Cairn University) and a Masters of Education from the University of Virginia. Pastor Kieselowsky cherishes the semester abroad he spent in Jerusalem while an undergraduate, as well as his three other trips to Europe, most recently to Latvia and St. Petersburg. In addition to serving St. John's congregation as pastor, he also leads Philadelphia Lutheran Ministries (PLM) as Executive Director. He has written for the Lutheran Witness, been interviewed on Issues Etc, and presented at Concordia Seminary. You can read about his journey to the Lutheran tradition in this Wittenberg Trail column. He also serves on the board of directors for the English District of the Lutheran Church-Missouri Synod.
Pastor Kieselowsky and his wife Allison are blessed with four lovely girls, Sofiya, Ella, EvaMarie, and Lily. His passions include the study of theology and church history, following his favorite football and baseball teams, travel, and the great outdoors of Pennsylvania, the land of his youth. Pastor Kieselowsky treasures meeting new people and loves to share the wonderful hope of the forgiveness of sins in Jesus Christ that drives his life and work. To invite him to meet for coffee or inquire of St. John church drop him a line at info@stjohnspringfieldpa.org or call the church at (610) 543-3100.